Photo Source: Photo by rawpixel on Unsplash
Welcome to another weekly edition of Side Hustle Spotlight where I interview actors and filmmakers at different levels of their career who have used their other passions to capitalize on a fulfilling side hustle. These folks no longer or have never had to do serving work that drained their energy and made them miserable. Be sure to check out the original article for inspiration on discovering your side hustle.
This week's actor is a novelist who makes a passive income with sales from her book. She uses her skills in performance and improv to develop her writing side hustle.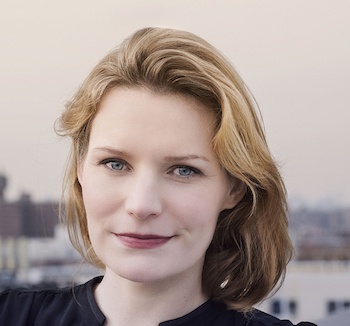 Name: Katrina Majkut
Side hustle: Non-fiction and comedy writing, author of "The Adventures and Discoveries of a Feminist Bride." 
Years acting: Two
Favorite acting credits/opportunities: I wrote A Little Red Riding Sketch that featured a sumo wrestler and performed it at Harvard for Ukrainian students. There wasn't a dry eye in the house. If I can make students from a post-Soviet country laugh, I'll take it. Also, I was briefly on an Animal Planet show.
Have you ever felt like your side hustle was in jeopardy because of acting? How long did it take you to feel like you had security at this side hustle, even if you took time off for an acting project? There is no security in any of my projects. That's what is both maddening and thrilling about being an artist, writer, and performer. That's why it's about the journey, not the destination.
I was extremely passionate about writing my book "The Adventures and Discoveries of a Feminist Bride." I felt Western wedding culture was an institution that had discriminated against women and minorities for far too long and that it urgently needed some feminist modernization. As a result, the book did eclipse my pursuit of improv and sketch comedy. However, I believe firmly that writing a non-fiction book that is both informative and funny will help build my skills as a comedy writer and how well I perform when I get up on stage. If I can take write about something terrible, still manage to make people laugh, and improve a biased and outdated system, it was worth it.
What skills or talents did you need for this side hustle? How long did it take you to qualify or complete training for your side hustle?
Passion, determination, a strong work ethic, and a willingness to selflessly take naps when needed is crucial to all my work. Coffee, asking for help occasionally, research, Netflix binges, and recognizing my weaknesses are important too.
How does this side hustle fulfill you? Do you feel like you're helping people/society/humanity in a tangible way?
All my work is about understanding how social traditions impact civil rights and then using different forms of art to share my findings and offer positive solutions and courses of action to people. It's amazing to see so many people demanding better rights. I work to remind them that their practices at home need to reflect the type of equality they want to see in the public sphere.
Has your side hustle made you better at acting or achieving your acting goals?
I think acting in improv has really improved my writing and art, especially when it comes to public speaking and interviews. My writing and art help make me more informed, well rounded, and a more confident performer though.
Why did you choose to do this side hustle instead of more stereotypical acting side hustles like serving?
My side hustle is just me following my heart.
Do you have any advice for actors that aren't sure what path to take while they are waiting for acting to pay all the bills?
Manage your time well, don't worry about naysayers, and take breaks for perspective. If you are passionate about what you're doing and willing to work hard at it, the benefits of that determination will show up in whatever you do.
[youtube https://www.youtube.com/watch?v=GmwVjSw9wus?t=1s]
The views expressed in this article are solely that of the individual(s) providing them,
and do not necessarily reflect the opinions of Backstage or its staff.
Original post: Source link