Little over a decade ago, Dutch artist and designer Mariska Meijers was working in banking and living an expat life with her young family in Singapore. But for her, it was a hollow existence. "I wasn't enjoying my career, and my personal life wasn't working out, either," she says. After getting an easel for her birthday, Meijers took up painting and quickly began to find fulfilment – and recognition. Eventually she realised that a more seismic shift was needed, so in 2006 she quit her job, called time on her marriage and headed home with her two children to the Netherlands, eventually settling in Amsterdam. "It was a radical 180-degree change. But I wanted to do something different with my life, so I jumped."
Meijers' canalside Amsterdam apartment reflects this positive, can-do mindset. It's full of strong colours and patterns that pull together to create a surprisingly calm environment. Her previous home was a larger 30s house to the south of the city, but when her children, Annemarth, now 21, and Mauk, 19, left home for university, the empty nest syndrome was hard to handle. She started keeping watch on this buzzy, once-industrial quarter of the Dutch capital. When an apartment in a converted granary came on to the market, she snapped it up. "It's a beautiful redbrick building, built in 1896, and reminds me of New York. There's a communal deck for barbecues, swimming in the canal, and boating in summer. Living on the water makes it feel like you're on holiday."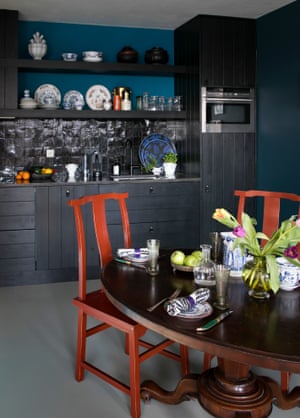 That said, the apartment itself was bland– "a characterless, white-box bachelor pad with partition walls destroying the canal views". The first step was to create an open-plan live/dine/work space, while hanging on to an extra bedroom for when her children return to the nest. She's exposed an original brick wall and banished a boxy entrance hall, so now she can enjoy those water views as soon as she steps inside.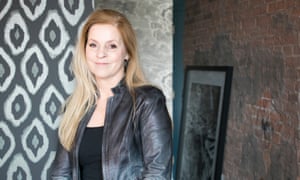 The kitchen is compact and distinctly un-kitchen-like, with black bespoke oak cabinets and black, handmade Moroccan zellige tiles. "As I have to look at the kitchen all the time, it needs to fit in with the rest of the apartment. I wanted it to look more like a hotel bar," she says. The rest of the apartment is decorated in similarly moody tones, including Farrow & Ball's inky Hague Blue. "Dark colours work really well in a small space, and make a great backdrop, just as they do at Amsterdam's Rijksmuseum, letting art and objects shine out." These include Old Master-style oil paintings, abstract canvases and photographs.
Banking may not have proved to be Meijers' thing, but her years spent working in Singapore and travelling around Asia have stocked her with a lifetime of visual inspiration. She deploys a pigment-rich palette of deep indigos and oranges, pinks and greens, that she first observed in the east. She uses her own ikat and palm prints in her home – her design business includes textiles, lighting and fashion, as well as vintage finds – along with distinctive designs like Fornasetti's cloud-covered wallpaper (from cole-and-son.com), confined to smaller areas of wall, cushions and rugs. Sitting at her desk, she works while looking over the water for inspiration. "I never get tired of it," she says.