Introduction
I started out as a value and dividend growth investor, I was really into GARP (growth at a reasonable price) for a while and then I discovered growth stocks and how to deal with them. My investing strategy now is actually a combination of all these strategies. I think this leads to a more diversified portfolio, but also it resembles the strategy of a lot of small investors better. A lot of contributors on Seeking Alpha specialize in either dividend or growth investing as if there is nothing in between. I don't blame them, because you have to start from your own personality and investing style to be able to write authentic articles, but I have been combining both strategies for a while now and I am really satisfied with that approach.
Because I write about both categories of stocks, I have received several questions of readers, who normally only buy dividend stocks about which growth stocks they should pick to start a growth corner in their portfolio. That question is not so simple because it depends on a lot of moving parts: your age, risk tolerance, investing horizon, control of your emotional behavior etc.
In this article, I show a growth stock that is suited for value investors: Facebook (FB). The company has lined out its trajectory for the next eight years. The recent drop in its share price, makes that the stock is fairly valued or even undervalued, depending on the metric you choose. Double digit returns are possible for quite a few years to come.
Important before we start
First I want to emphasize again that there is a good reason to have growth stocks in your portfolio, as I have shown in my article 'Why You Should Really Have Growth Stocks In Your Portfolio'. In short: a few multibaggers make sure that your portfolio crushes the S&P 500 (SPY).
Secondly, I would urge all stock investors to diversify in size. Don't buy just mega caps. An average monkey has beaten the market by 1.7% per year since 1964. Suppose you would have waited a few years to see the results of the monkeys and then you started to invest 50 years with the monkeys up to now, an initial investment of $1000 in the S&P 500 (SPY) would have given a total return (with dividend reinvesting) of $121,184, an annualized 10.07%. The monkey investor would have brought you to $260,773, or an annualized 11.77%. In money, you more than double the market return.
The reason is actually quite simple: since the monkey chooses random stocks, it is not biased by the big names. It takes more small caps, more growth stocks and more beaten-down value stocks and over the long term those tend to outperform the big companies that weigh on the index because of the law of large numbers.
The reason why a lot of investors are hesitant to buy stocks of smaller companies is because they are afraid of volatility. Therefore they could start with mega cap growth stocks in their portfolio, just to get used to not getting a dividend for example, or to expose themselves to the higher price appreciation versus a lot of value stocks. This article (and others may follow if readers appreciate it) is meant for those investors.
If you are a more daring investor with a long-term investment horizon, you could skip this step and immediately buy one of the stocks in my series of Potential Multibaggers or Chinese Stocks To Buy Now. You can both find the articles if you click on my profile.
I see these mega cap growth stocks as the most stable names in growth land. The volatility of these mega market cap growth stocks will be a bit higher than that of blue chip dividend stocks, especially in a bear market. Dividends are a sweet treat to wait. But the volatility of mega cap growth stocks will be lower than the smaller picks in Potential Multibaggers, where a one-day-25% drop is not unusual. The smaller the market cap, the bigger the growth potential, but also the riskier the investment. The growth stock I present in this article is somewhat the middle ground and is an excellent pick to start your growth portfolio with for those who are afraid to get their feet wet in the more risky growth stocks water.
What is a mega cap?
A mega cap has, of course, a big market capitalization. How big? There is no such thing as a clear line and the bigger the companies become, the higher the line. We have already one $1T company with Apple, but it will be followed by Amazon soon. That company has already touched $1T intraday a few weeks ago.
Let's say that there will be no one who will argue that if a company has a market cap higher than $300 B it is a mega cap. If you use that criterion, you only have 13 mega caps. Here are they, from biggest to 'smallest':
Ticker
Name of the company
market cap
AAPL
Apple
$1.07T
AMZN
Amazon
$970B
MSFT
Microsoft
$857B
GOOG
GOOGL
Alphabet
$809B
BRK.A
BRK.B
Berkshire Hathaway
$530B
FB
Facebook
$468B
BABA
Alibaba
$429B
OTCPK:TCEHY
Tencent
$396B
JPM
JPMorgan Chase
$381B
JNJ
Johnson&Johnson
$375B
XOM
Exxon Mobile
$348B
V
Visa
$328B
BAC
Bank of America
$301B
(Source: Statista.com and SeekingAlpha)
I think that no one will call JNJ or XOM a growth stock. Neither are the banks in this elite group. And I think Warren Buffet would be insulted if you would call Berkshire a growth stock. But despite the enormous size of these behemoths, there are six stocks which fit into a growth portfolio, in my opinion: Amazon, Alphabet, Facebook, Alibaba, Tencent and Visa. In this article I will pick the one that is one of the best in terms of valuation right now.
What is a growth stock?
This again is a point for deliberation and my definition may be too. It goes like this: 'At least 15%+ growth over the next five years.'
This seems a simple and quantifiable definition, but it is not. What I mean is that you mostly should not look simply at EPS. Because of the heavy investing that comes with building out an empire, the EPS of high growth stocks are often futile or even negative. That doesn't matter as long as there is growth in the operating cash flow. This is something the value investor should try to think about. Amazon has a current P/E of 179 and for most value investors that is a pet peeve to rant about. But if you look at Amazon's operating cash flow instead of the P/E, you see a completely different story:
(Source: FAST graphs)
Now you see that Amazon's 'irrational' price has followed operating earnings quite closely over the whole time period that millions of people were yelling that this bubble would burst soon. And if you look at this ratio, you can see that the stock has actually underperformed versus its OCF growth rate until recently and that it has room to grow much more over the coming years. But Amazon is not the stock we are going to discuss in this article.
A growth stock for value investors: Facebook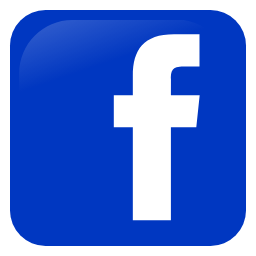 Facebook is subject of this article. It is a phenomenon. It is not even 15 years old, but a lot of people, more than two billion now, use Facebook at least once a month. In 2012 it made its IPO and since then the company has gone up 322%. Because of dilution, the market cap has gone up a lot more: 470%.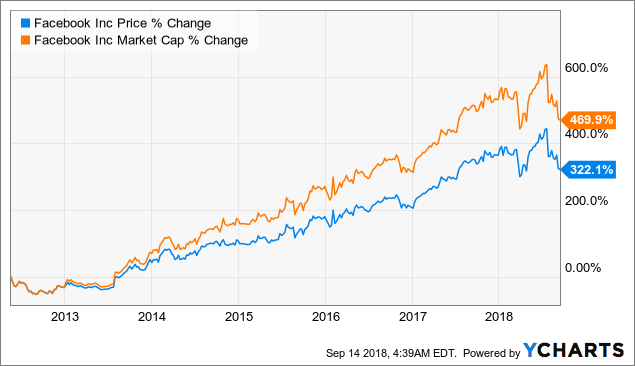 The market cap of Facebook is $465 B. now, down from almost $600B before the Cambridge Analytica scandal and Zuckerberg's testimony before the Senate.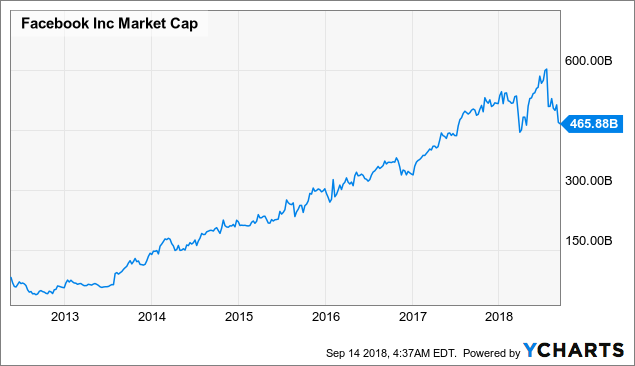 For such an enormous company, Facebook is still growing at an incredible speed. Over the next five years, a 22% EPS growth is expected, as reported by finviz.com.
Facebook has a forward P/E of just 19.35, lower than for example Microsoft's forward P/E of 23, although Microsoft is expected to 'only' grow 12% over the next five years. Or compare it to Walmart's forward P/E of 19.64, although that company is expected to grow earnings only by 5.5% over the next five years.
If the 22% growth in EPS becomes reality and Facebook would keep its low P/E over the next few years, Facebook's market cap could be more than $1T by 2022. But of course, multiple expansion is possible and besides that, if you look at Facebook's results of the last years, you will see that the company is a serial overdeliverer: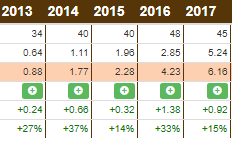 (Source: fastgrapsh.com)
As you can see, already from the first year, Facebook has crushed the expectations and it has continued to do so. The average earnings surprise is more than 25% every year.
Fastgraph gives a lower growth rate than finviz: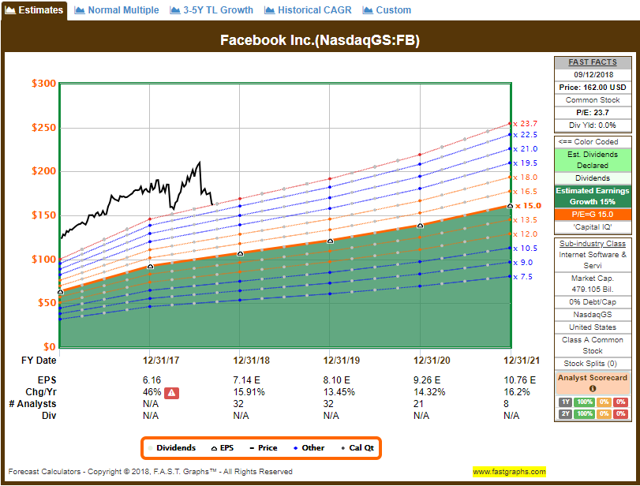 This FAST graph shows an average of about 15% growth annually for the next years. Mostly Facebook's management plays low ball, so I think that growth of somewhere between 18% and 20% is feasible. This makes Facebook a very attractive investment for the more conservative investor.
Facebook's investments
Facebook is investing a lot in all the new hot topics in technology. It has a 10 year road map that looks to monetize its giant users' database.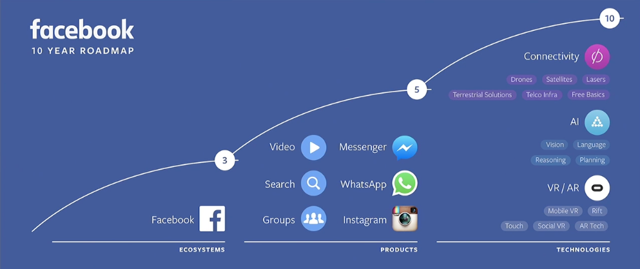 (Source: businessinsider.com)
This is a road map that was presented in April 2016. It shows that the first three years, Facebook would look at Facebook, the app, to monetize. This has already happened. Facebook has grown its earnings by 86% in 2016, by 46% in 2017 and is expected to grow its earnings by about 16% this FY. That evolution shows two things:
1. Facebook was able to monetize its core app really well, because 86% and 46% are enormous growth numbers
2. Facebook is at the end of a cycle of making money on the Facebook app. It has now been made into a cash cow, which means that it requires little investment money and keeps creating cash that can be used in other parts of the business.
The fact that 44% of the Americans between 18 and 29 have deleted the app on their mobile phone is therefore not that bad, even though it seems so. More than the Cambridge Analytica scandal this is in my opinion one of the reasons of Facebook's drop. And by the way: Facebook is still growing in Asia. This is from the Q2 2018 result slides: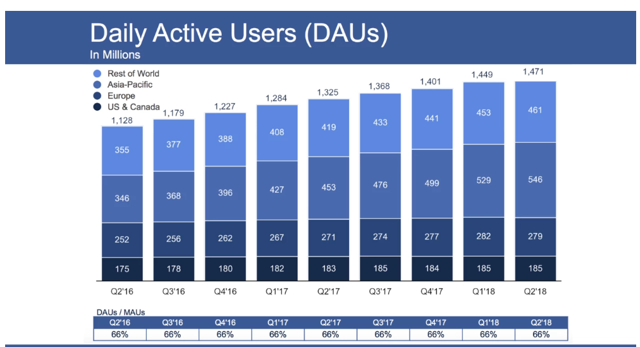 So still almost 1.5 billion people use Facebook every day. You shouldn't look at this from an all too American-centered point of view. Asia is an interesting market because the average income rises more and more. The growth of countries in that region is expected to be 5% (Indonesia), 6% (Philippines, Vietnam) or 7% (India) per year over the next several years. Until 2030 at least, Asia will remain the biggest grower. And exactly India, the Philippines and Vietnam contributed the most to Facebook's growth in Asia. (Note: China is expected to grow 6% annually too, but Facebook is not allowed there because of the communist censorship).
I think it is safe to say that the core Facebook app will become a cash cow for years to come, albeit a cash cow that will probably not grow very fast. More like some of the more pedestrian mega cap growers like Walmart: sometimes a little adjustment to keep up, but nothing earth-shocking new.
But Mark Zuckerberg wouldn't be Mark Zuckerberg if he hadn't prepared for the deceleration of Facebook. He knew that this was going to happen and has taken measure beforehand.
WhatsApp
Facebook bought WhatsApp in 2014 for what was then considered an outrageous $19B. I think that most people don't see it that way anymore.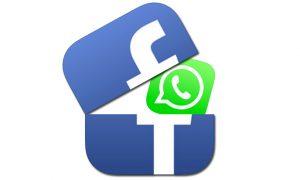 (Source)
WhatsApp has become the most used sharing app, with more than 1.5 billion users. And Facebook has been carrying out its plan to monetize this huge user base. It has rolled out a business WhatsApp in which businesses have to pay for messages, ranging from 0.5 to 9 cents per message, depending on the country you live in. Thing like flight times, product information, coupons etc. could be handled through WhatsApp now. Easy for the consumer, probably very cost-effective for the advertiser or business. I think that it will need some time to grow, but business WhatsApp could certainly offset the decline of revenue of the core Facebook app over the long term. In the end, I wouldn't mind if I got my time schedules, my entrance ticket or whatever on my WhatsApp instead of my mail. It would probably be easier.
Instagram
And then there is that other giant, Instagram. It was bought in 2012 for $1B, which was considered as way too much too.
(Source)
This is the growth of Instagram monthly active users, reaching 1 billion in June of 2018: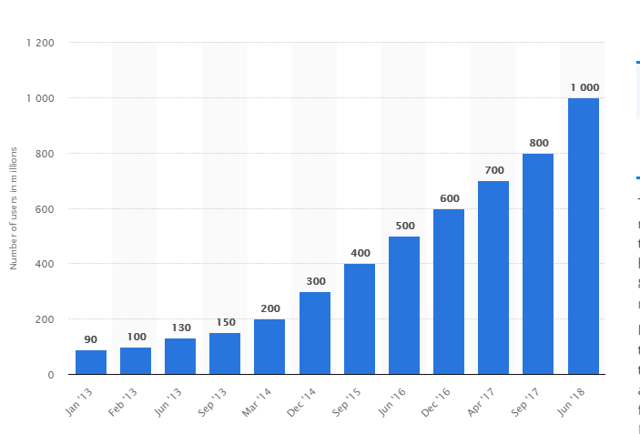 (Source: statista.com)
Data marketing company 4C saw that advertisers spent 204 percent more on Instagram in Q2 2018 versus the year before. In June of 2018, IGTV (Instagram TV) was introduced. It is a platform for longer user-generated videos.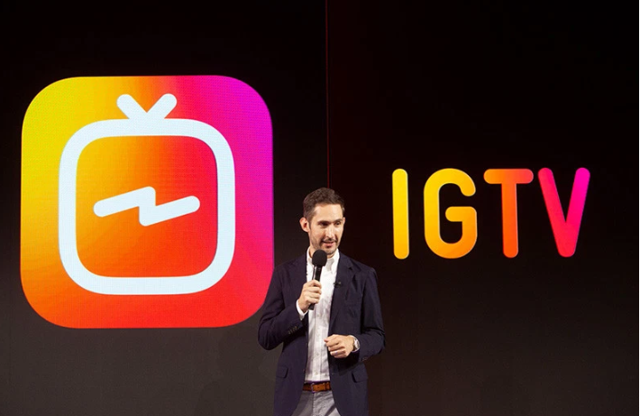 (Source)
There are no advertisements yet on IGTV, but that will come. From the same 4C report mentioned before:
According to Mara Greenwald, Media Director at Performics, "While ads are not yet available in IGTV, we can make assumptions about what the product will look like. IGTV ads will likely be in a full-screen, in-stream, non-skippable format. With viewability concerns about feed-based video content, IGTV has huge potential for a successful ad product, especially as social video continues to be measured more closely with television and online-video."
No plans have been released to monetize Messenger (also more than 1.3 billion users) or Facebook Groups. But I expect them to be announced somewhere in 2019. After all, Facebook is an excellent executor and will follow its road map on the way to more success.
The future
The last step of this road map is to monetize the technologies in which Facebook is already investing heavily now: AI, VR and AR and what they call connectivity (Drones, lasers, satellites etc.) There is a huge opportunity left there, because no company was able to bring these technologies to consumers in a meaningful manner. If there is one company who can pull this trick, in my opinion, it is Facebook. It bought Oculus Rift, probably the leader in VR, in 2014, just six days after the acquisition of WhatsApp, for $2B. Just as it has done with WhatsApp and Instagram, Facebook lets the company grow before it monetizes it. But this is hardware too, not just software, so it is not a coincidence that it takes time. Facebook takes that time and will only go all-in when the market is ready and consumers are willing to disregard the disadvantages of the technology for enough advantages.
I think Facebook will succeed in its plans again, which means that it will be able to grow for years, probably overdelivering on promises. After all, Facebook has an excellent management team and world class execution.
Valuation
If you look at the future of Facebook and at its valuation, this almost looks like a value investment, not a growth stock. The company's growth will slow down from the exceptional numbers of the past, which is not that strange for such a mega cap. But Facebook's stock price has already adapted to that new reality and there is a good potential for nice profits over the long term. This is a FAST Graph of Facebook's P/E: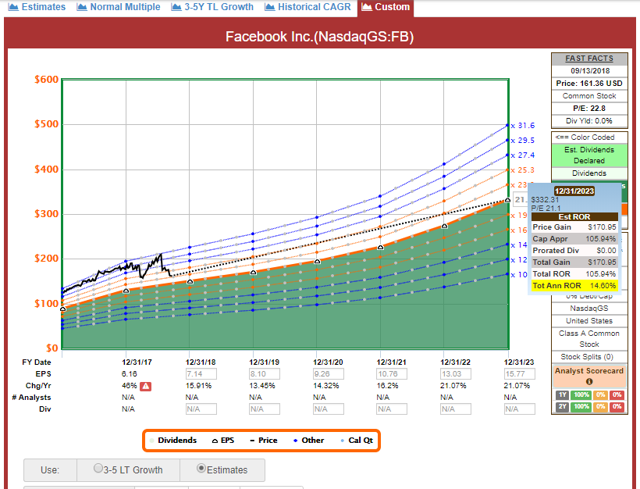 It shows that if Facebook's multiple would fall even back a bit more (to a P/E of 21), you could easily double your money over the next five years, which is about double the typical return of the S&P 500 (SPY). And because Facebook is a serial overdeliverer, I think this might even be conservative.
Even if you look at future cash flow, a conservative approach used for mature companies, not growth companies, Facebook isn't overvalued right now. This is the model of Simplywall.st:

But I stated in the beginning of the article that you should look at Operating Cash Flow for growth stocks. So, that is what we are going to do for Facebook too: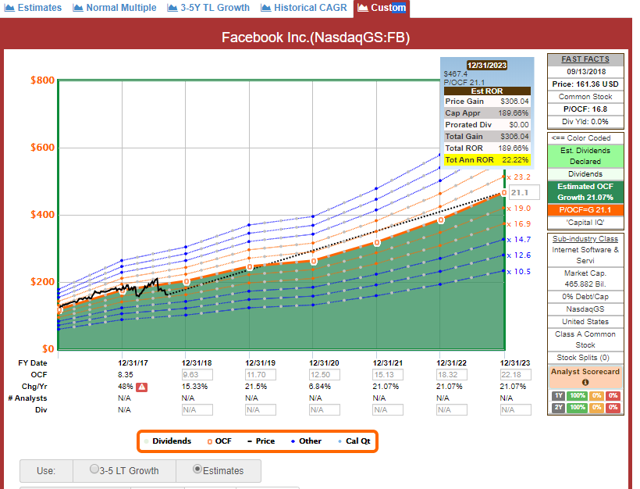 Here you can see that Facebook's returns could be even higher, almost 200% over the next five years or 22.22% annualized. You can also see that the stock is actually undervalued at this moment.
Conclusion
Even though a lot of young people claim that they have deleted the Facebook app and regulations are getting stricter, Facebook wasn't going to stick to its core app alone. Over the next few years WhatsApp and Instagram are going to be monetized and similar activities for Messenger and Groups can be expected too. For the longer term, Facebook has AI, VR and AR to monetize, so the growth of this company is not coming to a halt anytime soon. Because the market has brought down the stock price considerably and the expectations are low, I think Facebook can do what it has always done: overdeliver considerably. That could lead to substantial returns over the next few years.
If you don't want to miss any of my articles from a long-term perspective, feel free to hit the follow button.
In the meantime: keep growing!
Disclosure:I am/we are long FB, AMZN, AAPL, BABA.
I wrote this article myself, and it expresses my own opinions. I am not receiving compensation for it (other than from Seeking Alpha). I have no business relationship with any company whose stock is mentioned in this article.
PS: Also take a look at this study, where CocoSign interviewed 50 large companies to see which areas of the economy were hit most severely, and which industries managed to thrive during the Coronavirus.