This report has been produced together with Jussi Askola, and Philip Mause for High Dividend Opportunities.
Update on the High Yield Space
High-yield sectors and stocks have pulled back sharply in the past few days as a result of panic selling. The reason? During the week, the 10-year treasury yield moved up from 3.05% to 3.2%. This is not much in absolute terms, but it seems that investors panicked because it all happened in a relatively short time. We have seen this market reaction time and time again in the past two years. Each time there is talk about interest rate hikes, dividend stocks pull back only to strongly rebound when the dust settles. This time around, it is not only solid sectors such as Property REITs that have pulled back, but some of their preferred stocks too. This is market madness – extreme fear of rising interest rates – at a time when interest rates remain close to historical low levels, and companies are still able to borrow at low rates that enable them to achieve highly attractive returns. In today's very low interest rate environment, high yielding stocks remain very attractive to income investors as there are very little alternatives to get such investment returns. Demand for dividend stocks will only increase in the future as the general population grows older and more people enter the retirement age.
In my opinion, the yields that we are seeing today will not last very long. As demand for high-yield products grows over the next few years, yields are bound to compress. Therefore taking advantage of the high yields offered today is an opportunity.
About IRT
Independence Realty Trust (IRT) is one of the few REITs to specialize in multi-family residential (rental) investments. We are big fans of the concept because it allows us to invest in rental properties without all the hassle that comes with managing tenants and the problems that come with them, like leaking roofs, and so on.
Today, priced at just around $10 per share, IRT has the highest yield of its entire peer group at 7.1% as well as one of the most opportunistic valuations at around 13x FFO. After deep study of the underlying properties, we find great value in the shares – noticing significant NOI growth potential along with the opportunity to drive appreciation going forward.
With strong fundamentals, a high yield, and a discounted valuation to peers, we are adding IRT to our Core Portfolio with the expectation of holding on to it for many years to enjoy the consistent cash flow of rental investments along with long-term appreciation potential. IRT is a REIT and therefore issues 1099 tax forms (no K-1s).
Why Invest in Residential Rentals?
A Rental is a residential property for which the owner receives monthly payments from the occupant, known as the tenant, in return for the right to live in the property.
It can take the form of a small single-family house, or even a 100-unit apartment community:
There are many advantages and reasons to invest in rentals as part of an overall portfolio strategy:
High income in good times, and though times: Since having a roof over one's head is a vital necessity, the cyclicality of the demand for properties is greatly reduced, regardless of economic conditions. In a recession, tenants may receive a small rent cut to keep occupancies at high levels, but overall the income tends to remain relatively resilient and consistent over the full cycle.
Long term growth: Well-located properties are a limited commodity with ever growing demand. The result is long term appreciation – often well in excess of inflation with growing rents and values. With the trend towards ever lower ownership rate, apartments and rentals continue to benefit from an ever-larger demand pool.
Inflation protection: Real estate and especially rentals can serve as valuable hedges against the risk of accelerating inflation. Leases are generally no longer than one year long – allowing for regular rent increases when warranted.
Leveraged returns: Leverage may boost returns, but also amplifies risks. That said, since rentals tend to produce consistent and predictable income, investors are commonly able to get away with moderate leverage over the full cycle without sinking the ship. It may result in greater asymmetrical risk-to-reward outcomes over time.
Investing directly into a real estate property has its upside, but also has many downsides. These downsides include a lack of diversification, lower liquidity, and higher risk due to varying occupancy rates and maintenance costs.
For example, when you purchase a property, you can typically only finance one at a time. This means that while you might be adding diversification to your overall portfolio, you have a lack of diversification within the real estate asset class. If you own a residential property in sub-market that has become out-of-favor, you might become overexposed to losses.
Furthermore, investments in physical properties are highly illiquid. This means that direct real estate investments naturally increase an investor's liquidity risk. And the risk doesn't stop here. Occupancy risk, property taxes, insurance, and maintenance costs can all cause an investor to cover more out-of-pocket costs than they anticipate.
Furthermore, direct real estate investing is very time intensive and often requires a lot of work. Investors are required to find tenants, deal with maintenance and upkeep, and sometimes renovate the property before renting it.
Fortunately, real estate investment trusts (or REITs) are able to resolve many of these disadvantages:
They have a professional management team take care of all the hard work for you.
They provide the liquidity of a stock exchange to sell your shares when desired.
They also provide an immediate diversification into several properties, and therefore significantly reduce the investment risk.
In this sense, it allows even the smaller investors to gain exposure to attractive rental investments in a passive, liquid and diversified way.
After reviewing each of the ~15 apartment REITs, we come to the conclusion that IRT remains the most favorable investment today as it combines:
A highly desirable portfolio
High growth potential
A freshly deleveraged balance sheet
And finally, a low valuation and superior dividend yield.
An "Alpha"-Rich Portfolio
IRT is not your typical residential REIT that simply buys a property for passive income generation in its local market. Rather, it follows a very active approach aiming to outperform and maximize total returns in the long run. The strategy first looks at identifying strong non-gateway markets at the macro-level with:
Strong employment drivers.
Population growth and positive net migration trends.
Limited new constructions.
Attractive rent versus buy dynamics putting the landlord at an advantage.
Through this focus on identifying outperforming sub-markets, IRT owns today 56 properties located in high-growth regions with superior market fundamentals: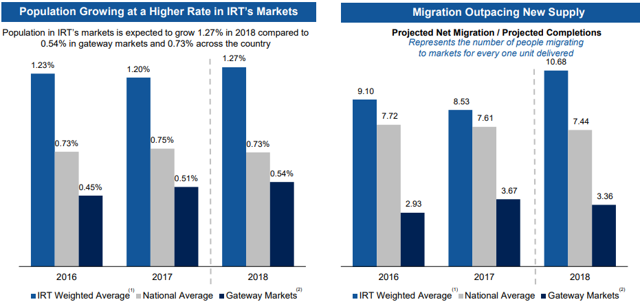 The population growth in IRT's markets is above the national average as well as the Gateway markets (NY, DC, LA and SF). Moreover, the new migration is also outpacing the new supply for housing, creating increased demand for existing apartment units.
After having identified strong markets, IRT follows an opportunistic acquisition approach on the micro-level with:
Properties priced at less than replacement cost.
Older units (5-15 years) with value-add opportunities to increase rents through property improvements.
Mid-rise / garden style assets in mature, in-fill locations with barriers to entry.
Potential for economies of scale thanks to stronger management.
Essentially, these are mostly Class B or B+ assets with relatively low average rents and the opportunity for value-add strategies to boost long term growth.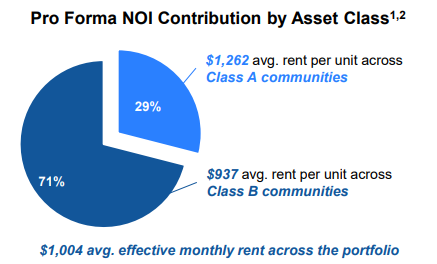 Class B properties are typically 10-20-year old constructions with external and interior amenity packages that start to be outdated and less attractive than those offered by newer properties. The main selling point of class B properties is the lower rent compared to newer properties. Yet, despite being older properties, they are well maintained in general, comfortable, clean, and so the occupants get good value for their rent as compared to newer properties.
As investments, we prefer Class B apartments than Class A because:
In good times, people have more money and commonly upgrade from Class C assets to Class B properties – leading to NOI growth along with higher quality class A properties.
In tough times, however, Class A tenants have less money and commonly downgrade to Class B properties to save on their rent – supporting the demand for space even during recessions.
As such, class B apartments are particularly well suited to sustain difficult times as they remain relatively more affordable and are still able to capture growth during times of economic expansion. So they tend to be defensive ones.
Moreover, IRT targets to expand into older properties. These are commonly under-managed with deferred capex and can often be bought at below replacement cost with the opportunity to add value by improving operations.
With 56 apartment communities, and 71% of Class B/B+ assets located in high-growth markets, we expect the NOI to continue growing at an attractive pace in the near term.
Sizable Growth On its Way
For the full year of 2018, IRT has guided for 3 – 4% same-store NOI growth from its assets. What makes it even more impressive is that it comes after a multi-year NOI expansion that far exceeded the average of its peer group. The high NOI growth is really proof that the company's strategy is working, and in fact even outperforming market averages.
Unfortunately, until now, the high NOI growth has not created much value to shareholders due to continued share issuance leading to dilution on a per-share basis.
Going forward, we expect this to change and FFO per share to start growing along with NOI due to two main reasons:
The management has been recently internalized – reducing conflicts of interests and resulting in cost savings.
A massive value-add acquisition was undertaken in late 2017, and it is expected to keep the management busy for at least 2 years before considering further acquisitions.
For a total price of $228 million, IRT bought 9 multi-family properties and funded the transaction with the issuance of 14,375,000 shares – expanding the share count by about 20%. With such a large transaction and increase in share count, issuing new additional stock is not a current option in our opinion.
Rather, we expect the management to get to the real work of adding value to these new properties and raising rents.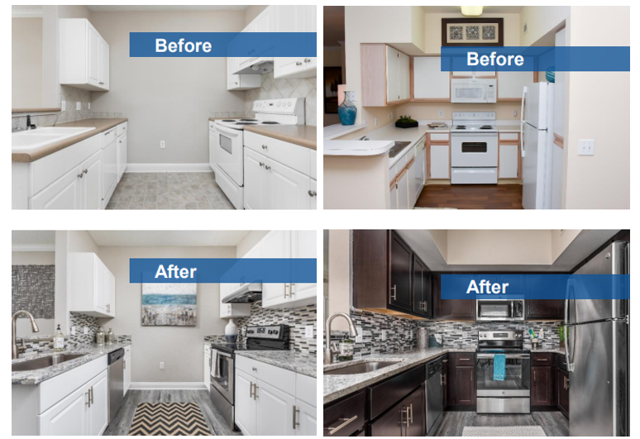 By doing small things such as improving/replacing appliances, flooring, cabinets, kitchen worktops, etc… IRT expects to earn 20% returns on invested capital with up to $8-9 million of incremental NOI creation already by the end of 2020.
Then when you add to this the organic NOI growth of its other properties, IRT has guided for up to 23% NOI growth over the next 4 years.

With a big pipeline of value-add opportunities to pursue and returns of up to 20% to be earned, we doubt that the company would issue new shares for additional acquisitions in the near term. As long as we are right on this premise, we expect significant FFO per share growth in the coming years.
The analyst consensus currently forecasts for 5% FFO per share growth in 2019.
| | |
| --- | --- |
| 2018 FFO | 2019 FFO |
| $0.76 | $0.80 |
Source: NAREIT
Freshly Deleveraged Balance Sheet
One thing that the management gets little credit for is its aggressive deleveraging heading into the recent cycle of interest rate hikes. It was timely, and greatly needed as we have noted in the past.
While in 2016, the company still had over 72% Debt to total market cap, today, the balance sheet is in much better shape with just around 50% debt. Moreover, the exposure to variable interest rates has been almost fully eliminatedwith 96% fixed rate debt, and there is almost no debt maturing until 2021.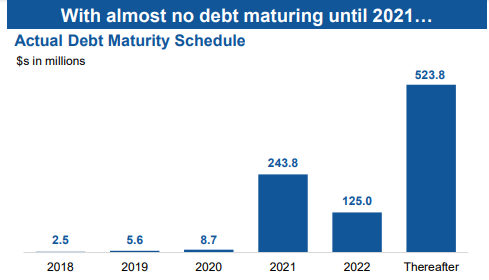 Now, what we find even more encouraging is that the management is still not done deleveraging. They understand that it is in the shareholder's best interest to bring leverage down closer to peers to allow for FFO multiple expansion.
As a result of the upcoming NOI growth, and value creation, the company expects to decrease its debt closer to the low 40% in the long run:

Valuation Shows Upside Potential
Offered at a 25% discount to peers, we consider IRT to be a great bargain trading at just 12.6x of 2019 estimated FFO:

The closest peers are today offered at over 17x FFO despite having less NOI growth potential on average.
One of the reasons why IRT is trading at such a deep discount is that the recent growth in FFO has not translated into FFO growth because of new share issuance that were needed to fund this growth.
While this has kept IRT trading at a relative discount to other REITs, we believe that such a large discount is unjustified for the following reasons.
Going forward, we do not expect to see any major share issuance until at least 2020 as the management remains busy improving its properties and deleveraging its balance sheet. Therefore, the NOI growth should finally flow down to shareholders with improving FFO per share. As this occurs, and the company posts positive growth on a per-share basis, we expect the market to react positively by repricing the shares closer to peers.
We would also argue that the market is not factoring in the growth potential that IRT deserves. Growth companies trade at higher multiples, and yet, IRT remains greatly under-priced.
A fair and conservative valuation multiple of the shares should be ~15x FFO – providing 15% upside from today's share price, and it would still be much cheaper than most residential REITs. As the company continues to deleverage its balance sheet and post impressive NOI growth, we have great confidence that the company is headed there.
| | | |
| --- | --- | --- |
| 2019 FFO per share | Implied Multiple | Implied Upside |
| $0.80 | 15x | ~15% |
But the appreciation potential is only half of the story here. The income is really what we find the most appealing. Shareholders are earning a stable 7.1% yield which is fully covered by recurring cash flow with a 90% payout ratio (or 110% dividend coverage) based on next year FFO.
The dividend coverage is somewhat tight (at 110%) and does not allow for dividend increases in the near term, but given the optimism for FFO growth, we expect the dividend coverage to improve.
As of right now, the 7.1% is sustainable and the highest in the residential real estate investment sector.
Risks
Execution Risk: IRT is currently going through a large expansion of its property portfolio through a growth plan. There is obviously execution risk. Should management be unable to achieve the projected profits and cash flow from its expansion, then our projections would be too optimistic and there could be downside risk for the stock.
New share issuance: If management decides to continue its aggressive growth, new share issuance might be needed which would dilute current shareholders and would limit any price appreciation, and could even put the dividend at risk.
Dividend coverage: We project that the dividend of IRT will be covered at 110% in 2019. This is still a tight coverage. Should unexpected events put a strain on IRT's cash flows, the dividend could be at risk. Any dividend reduction will put pressure on the share price.
IRT is part of the S&P SmallCap 600 Index
Another advantage in investing in IRT is that the stock is part of the S&P SmallCap 600 index which provides additional liquidity and potentially more demand for the stock in the long run.
Bottom Line
IRT owns a very favorable portfolio with potential for true alpha generation.
Management is right on track with their business plan.
The growth prospects are stronger than ever before following the large value-add acquisition.
The balance sheet is improving by the day with significant deleveraging happening in the recent years.
As the company gets to positive growth on a per-share basis as early as next year, we expect the shares to reprice 15% higher than today.
Until then, the 7.1% dividend yield appears to be sustainable and generating alpha in itself as the highest yield of the entire sector.
IRT invests in residential REITs such as apartments and multifamily homes. They have a lower-risk business model, in addition to fast growth. Yet, IRT is trading at a signification discount to its peers for reasons we believe unjustified. This is a fairly resilient business with solid long-term prospects, and can perform well even during periods of economic recessions. At the end of the day, everybody needs to live somewhere and well-located properties will achieve rent growth in the long run. With its "alpha"-rich portfolio and low market valuation, we believe that the stock of IRT is set to produce solid results for long-term investors. Buy IRT for its generous 7.1% yield in addition to long-term capital appreciation potential.
The current pullback in the high-yield space, and particularly in the Property REIT sector, offers a unique buying opportunity. We have been taking advantage to add new positions to our portfolio.
A note about diversification: To achieve an overall yield of +9% and optimal level of diversification, at High Dividend Opportunities, we recommend a maximum allocation of 2-3% of the portfolio to individual high-yield stocks such as IRT and a maximum of 5% allocation to high-yield exchange-traded products (such as ETF, ETNs, and CEFs). For investors who depend on the income, diversification usually results in more stable dividends, mitigates downside risk, and reduces the overall volatility of their portfolio.
If you enjoyed this article and wish to receive updates on our latest research, click "Follow" next to my name at the top of this article.
All tables and images taken from the company's website, unless otherwise stated.
About 'High Dividend Opportunities'
High Dividend Opportunities is the largest community of income investors and retirees with over 1500 members. We provide a comprehensive service, ranked #1, dedicated to high-yield securities trading at attractive valuations – with an overall target yield of 9-10%. Subscription includes:
A managed portfolio of stocks currently yielding 9.8%.
A "Dividend Tracker" which lets you know exactly when to expect your next dividend.
A "Portfolio Tracker" to track your dividend holdings, income, and allocation by sector. For video click here.
If you are looking for the most profitable high-dividend ideas, you have come to the right place. For a very limited time, we are offering a 20% discount. For more info, click here.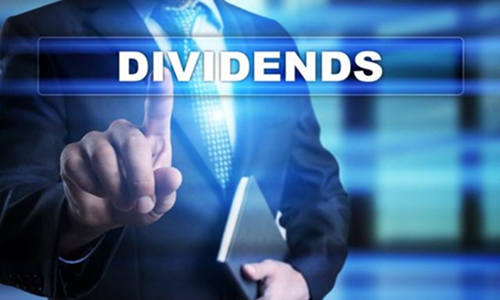 Disclosure: I am/we are long IRT.
I wrote this article myself, and it expresses my own opinions. I am not receiving compensation for it (other than from Seeking Alpha). I have no business relationship with any company whose stock is mentioned in this article.