Hello! August was another fantastic month. The weather was nice and did our best to keep busy. We went to our buddies' cottage 2 weekends in a row. The fishing was actually great and we caught a tonne of Walleye and Bass. No Lunkers though and we released them all for next time.
We are lucky to have such cool neighbors around our age and the kids go to school together, so we set up a pig roast/potluck date. It rained a bit, but we tried to take advantage of that by busting out the slip and slide. Good times.
The wife and I took the kids to Wonderland the other day, always good times! Have you seen the new coaster they are making next year? It looks crazy and is going to break all these records. Canada's Wonderland is calling it, "the world's fastest, longest and tallest dive coaster" – I think I'll stick to the ghoaster coaster. haha!
Overall a great month, filled with good times! Well, our car broke down and we had to get a newer one. That sucked….. Haha! On to the Money.
Raises or Cuts
After not getting much raises the last couple months, this month threw down some raises.
Sienna Senior (OTCPK:LWSCF) raised their dividend 2% which adds .58 cents to our forward dividends. Haha! This is one position I have wanted to add to but haven't. It is such a small position.
Richie Bros Auctions raised theirs by 6%. Sweet! The stock popped nicely after that, then my car broke down. I sold this whole position cashing in on roughly a 50% profit in less than a year.
Emera (OTCPK:EMRAF) boosted theirs by 4%. This raise added $8.37 to our forward dividends.
Bank of Nova Scotia (NYSE:BNS) added another 3.66% to theirs aka 3 cents a share. Which adds $3.12 to the totals.
Overall, we added $12.07 to our total from these raises. Richie would have added a nice chunk more as it was one of my biggest holdings, but it made sense to cash out for the car.
Dividend Income
14 Companies paid us this month.
| Stocks | August 2017 Income | August 2018 Income |
| --- | --- | --- |
| Totals | 186.42 | 311.10 |
| Auto Properties Reit | 3.62 | 0 |
| Potash Corp. | 18.82 | 0 |
| Procter & Gamble (NYSE:PG) | 0 | 17.21 |
| National Bank of Canada (OTCPK:NTIOF) | 20.88 | 22.32 |
| AltaGas (OTCPK:ATGFF) | 5.25 | 5.48 |
| Sienna Senior | 2.40 | 2.40 |
| BMO | 5.40 | 16.32 |
| CVS Healthcare – USD | 0 | 15.50 |
| ZDY Etf | 7.56 | 7.67 |
| Boardwalk Reit (OTCPK:BOWFF) | 5.44 | 2.42 |
| Shaw | 12.05 | 30.61 (One Drip) |
| Emera | 0 | 51.42 (One Drip) |
| Corus Entertainment | 9.79 | 20.14 (5 Drips) |
| Riocan (OTCPK:RIOCF) | 18.80 | 39.72 (One Drip) |
| Extendicare | 15.16 | 16.68 (2 Drips) |
| General Mills – USD (NYSE:GIS) | 61.25 | 63.21 (One Drip) |
11 Drips this month, got to love that.
August 2018 Dividend Total = $311.10 (66.88% higher yr over yr)
August 2017 Dividend Total = 186.42 (Previous Dividend Income)
Our Drips (Dividend Reinvestment Program) added $8.98 to our yearly forward dividends this month.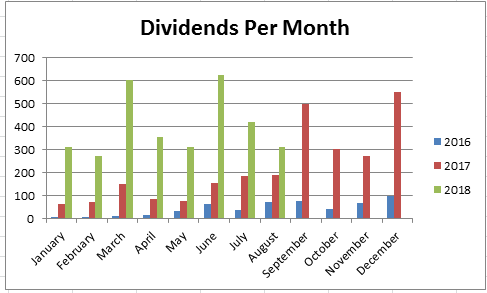 Other Income
Private Investment Payment – $500.00
Solar Panel Income – $342.14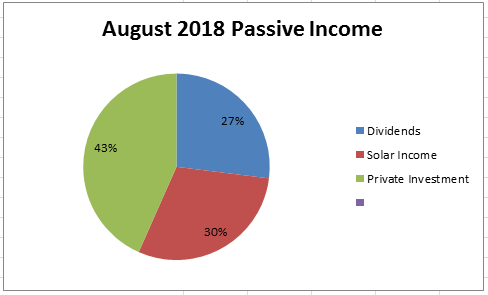 Total August 2018 – Passive Income – $1153.24
Total Passive Income Increase over last year – 68%

Totals For 2018
Dividends Year To Date Total – $3185.58
Other Passive Income Year to date – $6112.71
Total Passive Income for 2018 – $9298.29
Year End Goal – $15,000 – 61.98%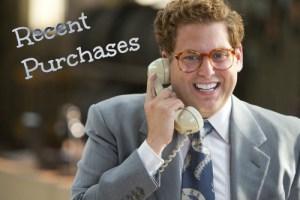 August 2018 Purchases
35 shares of Canadian Utilities
Sales
Unfortunately we sold quite a bit of stocks last month as our car broke down, and we decided it was time to buy a newer car.
Sold 29 shares of Boardwalk Reit
Cashed in on 58 shares of Nutrien (NYSE:NTR)
Sold 150 shares of Richie Bros Auctions
Conclusion
Overall, it was another great month all around. As we roll into September we know the dividends will be juicier, the air will be crispier and our son goes back to school. The good times will keep rolling!
The website also surpassed its all-time high for traffic in a month set back in December last year by 10% in August. I used to post twice a week, but started to get burnt out and decided to only post once a week.
Thanks to all of you for the continued interest, motivation and holding me accountable to do/be better. It really is a great feeling being a part of this community and seeing the progress of both the blog and our finances. Together we do help each other grow, Thanks again.
Cheers
How was your month? Do anything cool? Hows your dividends?
Editor's Note: This article discusses one or more securities that do not trade on a major U.S. exchange. Please be aware of the risks associated with these stocks.