In Q2 2018, researchers at Gartner revealed that the level of interest and adoption of Blockchain technology by CIOs in global brands is still low. Data from Gartner's 2018 CIO Survey revealed that only 1 percent of respondents initiated any kind of Blockchain adoption in their organizations. Further, only 8 percent of the CIOs polled are experimenting or drawing up short-term plans on Blockchain adoption and 77 percent revealed that they are not currently interested in investigating or adopting Blockchain technology in their businesses.
The stalled adoption of Blockchain technology is understandable, but potentially short-sighted. David Furlonger, vice president and fellow at Gartner observes that "It is critical to understand what blockchain is and what it is capable of today, compared to how it will transform companies, industries, and society tomorrow."
The infographic below shows how long it took new technologies to be adopted by 25 percent of the U.S. population. You'll observes that the adoption pace of new technology has consistently shortened from electricity to smartphone. Blockchain technology, however, has been a presence in the market for more than 5 years.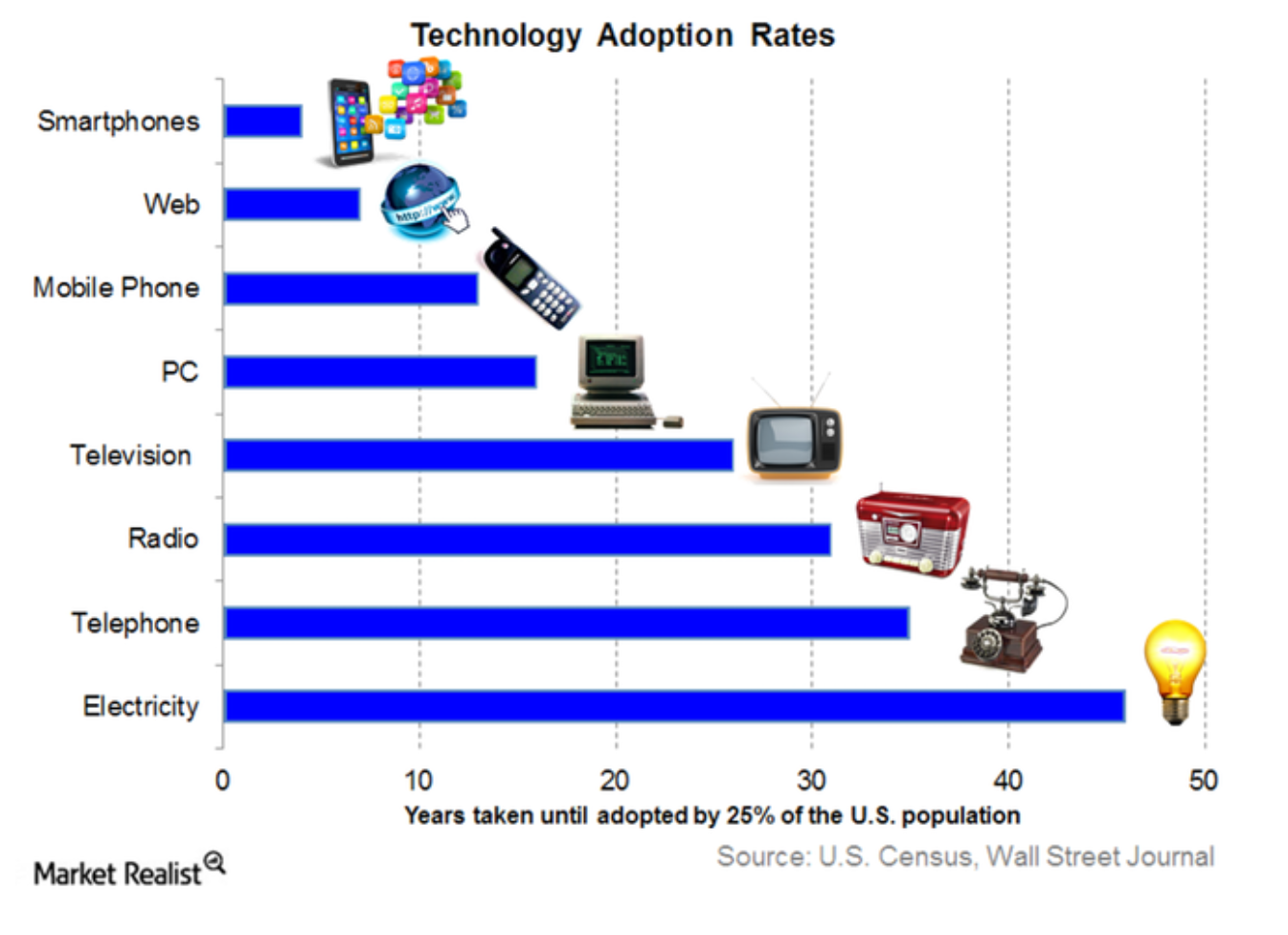 Transitioning existing businesses to the blockchain might be a faster route to mass-market adoption
Walmart Inc. (NYSE: WMT) is one of the traditional companies actively looking for how to integrate blockchain technology with its business operations. In July Walmart filed a patent application describing a decentralized secure delivery management system in which "transactions for the capacity units are tracked in a ledger, with available capacity units indicating an open location on the docking station or contracted out capacity units indicating that either the location has a locker secured…"
Walmart is also one of the 10 companies collaborating with IBM (NYSE: IBM) on a blockchain solution for tracking food supply chains globally in the Food Trust Blockchain. Earlier this year, Walmart had filed a patent application for a blockchain-powered "Smart Package" that would track package contents, location, environmental conditions and pricing transparently.
ASQ Protocol is trying to leverage the power of the content sharing economy and social networks to drive the mass-market adoption of blockchain. The ASQ Protocol is simply a decentralized solution for publishing, storing, sharing, engaging with and monetizing content. The platform is interested in empowering a new breed of economy by being a source for consumers to discover the whole spectrum of available content without censorship algorithms controlling what you see in your feeds. The platform also allows content creators to maintain control of their content and on how and where it is shared.
Interestingly, the protocol is serving as a platform with existing networks to transition their business models into decentralized models. For instance, ASQ Protocol is launching with two ecosystem partners; namely, ASKfm and NING. ASKfm is the world's largest Q&A social network with more than 20M users across 49 languages. NING is one of the largest SaaS platforms for building social community websites and it boasts 45M registered users and 10M monthly active users. The successful onboarding of both companies on ASQ Protocol will give it a decent start over similar blockchain protocols who might need to start attracting users from the ground up.
Alibaba Group Holding, Ltd. (NYSE: BABA) is also working on leveraging Blockchain technology to transition its marketplace into a decentralized platform devoid of middlemen especially in payments processing. The Chinese giant has filed a patent application with the China State Intellectual Property Office for "A System and Method That Adjusts Account Balance on a Blockchain". The firm is hoping that Blockchain technology could enable it process more cross-border transactions guarded by smart contracts.
It is worthy to note that Alibaba is currently testing out how it could integrate Blockchain technology with its AliPay system to allow users in Hong Kong send money to residents in the Philippines for faster transaction times and lower processing fees.
Here's what would happen if traditional firms start adopting Blockchain technology
The mass-market adoption of Blockchain technology will most likely start from the financial sector as cryptocurrencies continue to survive the onslaught of attacks and criticism from traditional financial institutions.
If projects such as Ripple succeeds in convincing banks to adopting blockchain technology, we will begin to see a merging of divide between fiat, banks, and crypto. The market cap of the entire cryptocurrency market is currently around $204B accounting for a mere 0.048 percent of the $5 trillion money supply based on calculations from the Bank of International settlements. If cryptocurrencies succeed in getting just 1 percent of the global monetary supply could see the market cap of the cryptocurrency markets more than double.
The mass-market adoption of blockchain technology will also increase the amount of institutional funding that will go into blockchain research, developments, and investments. This increased funding will in turn hasten the usability of cryptocurrencies and blockchain technology, facilitate communications between on-chain and off-chain assets, and promote the development of new types of applications.
Here's why the mass-market adoption of Blockchain might continue to be delayed
One of the key factors delaying the mass-market adoption of Blockchain is the complexity surrounding blockchain because of its background in cryptography. CTOs often have a hard time convincing the rest of the C-suite, board, and investors about the need to transition into a blockchain powered infrastructure. The fact that transitioning to a blockchain might require considerable costs without necessarily showing comparable returns also makes it hard to make a valid case.
More so, the lack of many existing practical use cases that could serve as reference points also make it somewhat difficult to advocate blockchain adoption in corporate boardrooms. Many executives know that Blockchain might give them a competitive advantage, but the existential chicken-and-egg riddle of adoption remains unsolved.
Another major factor delaying the mass market adoption of Blockchain technology is the fact that it requires the acquiring of new not not-readily available skills to deploy. For one, there are not many competent and experienced blockchain engineers and many of the existing ones are still learning on the job to find creative ways to use blockchain to solve problems. The fact that the blockchain developer community also tends towards libertarianism in which mavericks thrive also makes it somewhat difficult for developers to fit into traditionally conservative corporate cultures.